Thank You !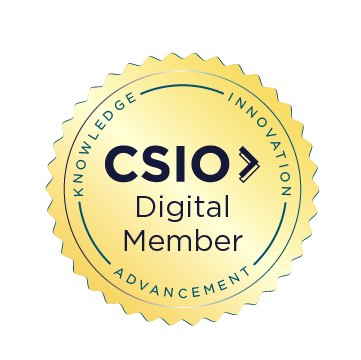 I really enjoyed the last series and have been sharing the information about your courses with my colleagues. The cybercriminals have gotten so sophisticated and this type of information is so important to be able to avoid becoming a victim!
Laurie Bauer, BD Manager
TW Insurance Brokers, AB
CSIO's cybersecurity eLearning was a great foundational tool that helped me learn how I can better protect both my data and that of the brokerage.
Rene Desaulniers, Operations Manager
Reider Corporate Insurance Solutions, MB
The eLearning modules supplied our staff with relevant information and kept our staff engaged with interactive examples and exams through the modules.
Trevor Sodergren, President
Broker Age General Insurance, AB
Frequently Asked Questions
Who developed the content?
Industry experts and leaders.
For several years, CSIO has hosted well-attended webinars, bringing in expert guest speakers to educate our members on digital skills and technology trends. We've been able to continue to translate the same experience to our eLearning courses, which are offered on-demand at your convenience.
Are there any costs or fees?
The CSIO eLearning program is developed as a free benefit to our members.
There are no costs associated with the program. In order to access the eLearning program, you will just need to log into CSIO.com with your account and password. If you do not have a CSIO.com account, you can set one up here.
What do I get out of this program?
CSIO is providing these eLearning courses to support our members in developing critical digital skills and knowledge they need to apply to their roles in the broker channel. Taking these courses demonstrates your commitment to enhancing your digital skill set and adds value to your brokerage. When you complete a course, you will receive a certificate that you can submit for CE credits in specific provinces.
What are the technical requirements to access the courses?
An Internet connection is required to access the courses.
While the eLearning platform can be accessed using the latest versions of most common browsers, the recommended browser is Google Chrome. You may experience minor issues on Internet Explorer. The courses are fully responsive and can be viewed on any mobile device.
How soon will I receive a certificate?
As soon as you've successfully passed the course quiz, you will enter your first and last name and the system will generate your completion certificate to submit to your provincial regulatory body. The certificate is available instantly, no need to wait.
Are the eLearning courses accredited?
Yes. Each completed course is are available for accreditation in Saskatchewan, Alberta, Manitoba and Ontario.
How much commitment will this be?
Each course is comprised of several video modules and quizzes and should take approximately one hour to complete. You may pause your learning at any time and your progress will be tracked for your next visit.
Can I do these courses collaboratively with my colleagues?
In order to get the most benefit out of the program, the CSIO eLearning courses are designed to be taken individually. Each participant needs to log in using their own CSIO.com credentials. Each course includes interactive quizzes that cannot be submitted as a group.
How often do you add new courses?
CSIO continuously assesses the educational needs of our members relating to digital skills and technology. We will be adding new courses on a regular basis. To stay updated on new courses, make sure you sign up for a
CSIO.com account
.
Simply log on to the CSIO.com website and navigate to CSIO.com/eLearning. Click on the Access the eLearning Courses button to access the eLearning courses. To start a course, simply click on the course tile above.
What do I need to do to complete a course?
Each course is made up of a series of videos. Learners need to watch all videos from start to finish. Each video contains at least one "Test Your Knowledge" question to test you on what you have just learned. At the end of the course is a brief quiz: participants must attain a passing grade of at least 60% to complete the course. If you don't pass the quiz on the first attempt, you can try the quiz again as many times as you wish without retaking the course. You can also choose to go back and replay any videos to refresh your memory. Once you've successfully passed the quiz, you will enter your first and last name and the system will generate your completion certificate to submit to your provincial body. You will need to choose to download the province of your residence. If your province is not listed, you can choose to download a certificate of completion that doesn't state any particular province.
Who do I contact if I'm having technical difficulties?
If you're having any difficulties accessing or completing a course, please email us at
[email protected]
or call us at 1-800-463-2746.
Can I log on from multiple devices?
Yes, you can choose to start a course on one device (such as your work computer) and continue from home, on a personal device, including tablets and smartphones. You will just need to log in to CSIO.com/eLearning with your username and password.